Competitive Brand Analysis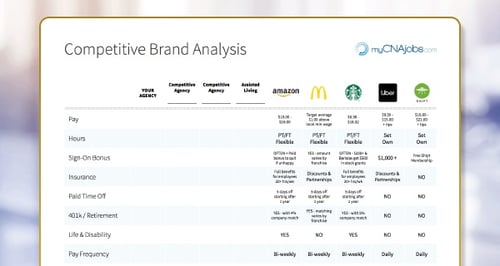 Industry Focus: Home Care
Published: 2019
Do you know how your recruitment offering compares to other companies in town? Use this tool to take that one step further and take what you offer today to best sell to a caregiver so they WANT to work for you.
Download & use this guide to:
Analyze your offering compared to other local businesses
Build your recruitment strategy to attract candidates
Shop competitors to evaluate where you land
About myCNAjobs
myCNAjobs is the largest professional Caregiver, CNA, and Home Health Aide network in the nation and offers a suite of recruitment tools to hire caregivers, CNAs, and Home Health Aides.
Want to learn more?
312.566.8520
myCNAjobs.com/hire