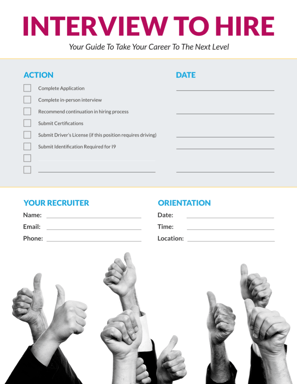 Industry Focus: Home Care & Senior Living
Published: 2020
Download & use this guide to:
This is a marketing piece that you can give to a caregiver before they leave your office after a career fair event or interview. Companies that let a caregiver know where they are at in the process tend to get the most hires. If you don't already have something like this in place today, it's a great tool!
About myCNAjobs
myCNAjobs offers a suite of recruitment tools to recruit Caregivers, Resident Aides, CNAs, & Dietary. Rated #1 return-on-investment in senior care, myCNAjobs partners with companies across the nation to access millions of front-line workers nationwide. We're in the business of helping companies hire efficiently while getting rid of meaningless job postings, resumes, and clicks. We're cutting the holy-grail of recruitment metrics in half -- cost per hire.
Want to learn more?
312.566.8520
myCNAjobs.com/hire