Latest Trend Report: Disconnected Edition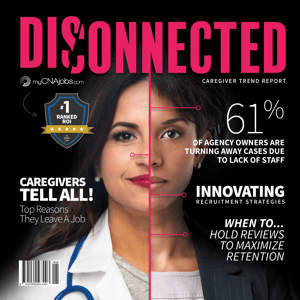 Shared in Partnership with:

Industry Focus: Home Care
Published: 2019
There is a growing disconnect between how agencies and caregivers think about work. The management of this disconnect is what will separate average agencies from high performing industry leaders. The 2019 Caregiver Trend Report shares new thinking on how to take the perspective of a caregiver and tackle the disconnect head-on to win in an increasingly competitive marketplace.
Download this Trend Report to learn;
Latest insights in caregiver pay
Top reasons caregivers leave a job
Latest benefits agencies are offering
Innovative recruitment strategies
About myCNAjobs
myCNAjobs is the largest professional Caregiver, CNA, and Home Health Aide network in the nation and offers a suite of recruitment tools to hire caregivers, CNAs, and Home Health Aides.
Want to learn more?
312.566.8520
myCNAjobs.com/hire