Latest Trend Report: Behind the Data Edition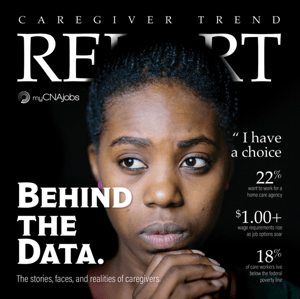 Industry Focus: Home Care & Senior Living
Published: 2020
BEHIND THE DATA dives deep inside the minds of caregivers.
Data was collected across multiple studies including 24 focus groups interviews, a survey of 400 home care agencies, and a survey representing millions of caregivers.
The Report explores;
Wage trends & impact of outside industries

Key factors a caregiver evaluates when selecting an employer

Interview show-up rates

Mentorship & training programs

Top reasons caregivers leave a company
About myCNAjobs
myCNAjobs is the largest professional Caregiver, CNA, and Home Health Aide network in the nation and offers a suite of recruitment tools to hire caregivers, CNAs, and Home Health Aides.
Want to learn more?
312.566.8520
myCNAjobs.com/hire