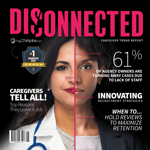 Our partners at myCNAjobs are excited to share insights from the 2019 Caregiver Trend Report: DISCONNECTED. The latest Trend Report includes insights from both agencies and caregivers to uncover new thinking on how agencies can better align to drive more effective recruitment and improve retention.

With 61% of agencies turning down cases within the past 30 days due to lack of staff, we invite you to join us for a data-packed session to learn how managing this disconnect can help you leapfrog your competition.
Can't make it this time? Register to receive a recording or book a meeting to explore new recruitment innovations and tap into our front row seat.