Insider Look: Recruitment Trends From Home Care Agency Leaders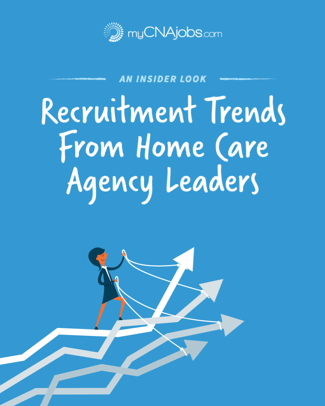 Industry Focus: Home Care
Published: 2019
How are home care companies tackling the caregiver shortage? Take a deep dive look at a few innovative strategies. Download to learn:
How to recruit across expanding territories
How to reach candidates not applying to your jobs today to expand your applicant pool
How best to manage recruitment ebbs and flows
Key strategies to increase interview show-up rates
About myCNAjobs
myCNAjobs offers a suite of recruitment tools to recruit Caregivers, Resident Aides, CNAs, & Dietary. Rated #1 return-on-investment in senior care, myCNAjobs partners with companies across the nation to access millions of front-line workers nationwide. We're in the business of helping companies hire efficiently while getting rid of meaningless job postings, resumes, and clicks. We're cutting the holy-grail of recruitment metrics in half -- cost per hire.
Want to learn more?
312.566.8520
myCNAjobs.com/hire