Getting a Caregiver to choose your agency over a competitor is the crux of Caregiver recruitment today. So what do 60% of Caregivers report as being "very important" when deciding where to work? A personal connection with the person interviewing them. You can check out their responses below: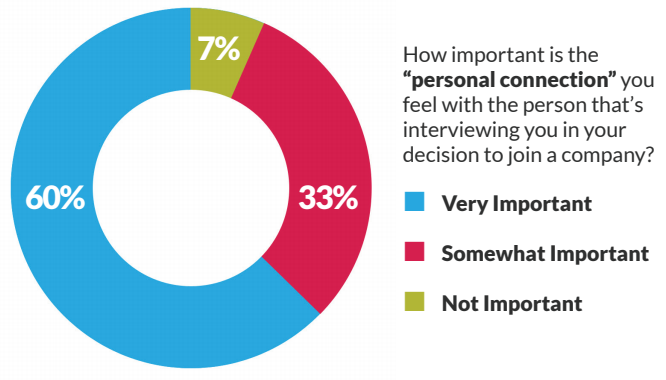 For many Caregivers and CNAs, personal connection is the reason they got into the business. The human element of taking care of those who need it most keeps them in the industry. It's no wonder so many rank it as an important part of why they choose to work where they do. Making an effort to create this connection when recruiting Caregivers can mean a lot to potential new hires. Here are some great examples Caregivers have shared with us of ways the recruiter created a personal connection by going above and beyond during the CNA recruitment process:
"The interviewer offered to pick me up a cup of coffee from Dunkin Donuts because I had a long drive to the interview"
"I got to go on a company tour of the entire facility and meet people!"
"The interviewer made a personal connection and related to my situation as an unemployed person fresh out of college to her daugher in the same situation."
These small gestures and extra effort put in by an agency when hiring CNAs makes a lasting impression on the Caregivers. If you can inject something similar into your process when recruiting CNAs, HHAs, and Caregivers, you'll put yourself in the best possible position to succeed. If you're interested in working with myCNAjobs to help with home care recruitment, you can learn about our Caregiver and CNA recruitment tools here.
You may also like:
Hiring CNAs: How You May be Missing Out on Caregivers in Your Area
Recruiting Caregivers: Top Factors Candidates Look for When Deciding to go to an Interview