As agencies are challenged with finding enough quality Caregivers and CNAs to meet their goals and grow their business, the clear culprit is an overall Caregiver shortage of talent. If we take a closer look, the numbers get even more concerning. In our latest study, only 25% of Caregivers reported they want to work for an agency. Here's the breakdown of where Caregivers told us they're interested in working: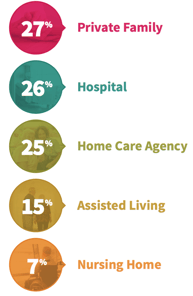 This insight paints a picture of just how tough Caregiver and CNA recruitment is getting. It means you're not just sharing the talent pool with other agencies. You're also competing with private families and other senior care providers like assisted living facilities and hospitals. It's important to lead with the benefits of working for a home care agency in order to recruit candidates who are interested in the type of work you offer.
The agencies that we see doing this right are building a strategy around how to sell a Caregiver on working for an agency. This could mean touting the flexible schedule you offer, consistent hours you may have available, or access to training and development along with benefits like health care coverage. As you think critically about your process for recruiting Caregivers, ask yourself how this insight affects your strategy. If only a quarter of all Caregivers and CNAs want to work for you, how can you get in front of those candidates? What is the best way to highlight the benefits of working for an agency so you can appeal to those interested Caregivers?
If you're struggling with hiring Caregivers, CNAs, home health aides looking to work for an agency like yours, we'd love to have a conversation about how we can help with Caregiver recruitment.
You May Also Like:
Caregiver Recruitment - Could Your Market be Bigger Than You Think?
Is the Grass Greener for Caregivers and CNAs Outside of Home Care Recruitment?