If you have had a discussion about Caregiver and CNA recruiting lately, the topic of pay has likely come up. Across the country, home care recruiting has become a competition for top talent, and offering competitive pay is a necessity to survive. In a recent post Caregiver Recruitment: The Importance of Tracking Caregiver and CNA Pay we talked about how pay has risen across the country, but what are Caregivers looking to make in your state? We've compiled a list of state averages for both certified and uncertified Caregivers - an invaluable piece of data for any agency currently hiring Caregivers.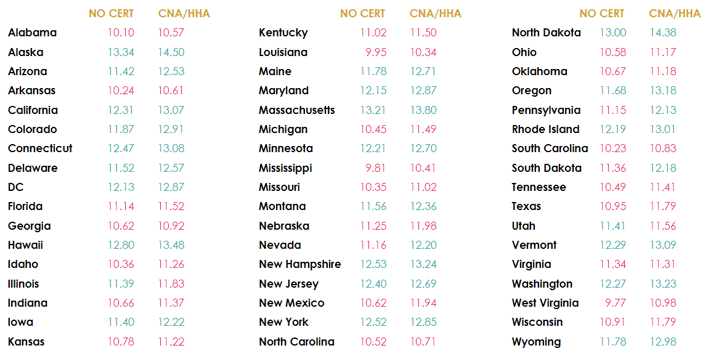 *Numbers listed in red fall below national average, while numbers listed in green sit above national average.
Where does the average in your state fall, and how does that relate to your current pay today? How does that compare to out-of-industry competitors like fast food and retail, many of whom have national pay rates that sit above minimum wage for individual states. In order to be successful when recruiting CNAs and Caregivers, you need a strong foundation of competitive pay for Caregivers to be interested in your agency. To get an even more localized look at Caregiver pay, you can visit our free Caregiver Pay Portal here.
We've collected pay data like this from over 1+ million Caregivers and bundled it up alongside great insights - direct from job seekers in our latest Caregiver Trend Report. If you're interested in learning more, join us for one of our action-packed webinar in our current Get Competitive Webinar Series to uncover the latest trends in job search and get under the hood to better understand a Caregiver's psyche including the impact of:
Wages

Benefits

Training

The Interview Process

Your Local Market
Join us for an upcoming webinar - REGISTER HERE.
You may also like these other Caregiver recruitment insights:
Top Tips to Improve Your Caregiver Recruitment Employee Referral Program
Home Care Recruitment Processing Times: Why Caregivers Aren't Making it to Cases