The challenge of recruiting Caregivers has been a hot button topic in home care for a long time now. Panels of experts have discussed it at trade shows across the country and countless articles have been penned to raise awareness of the Caregiver Crisis. With the release of the 2018 Home Care Benchmarking Study from Home Care Pulse, we can again see that the Caregiver shortage is the #1 threat to home care businesses. Agencies across the country are dealing with the difficulties of Caregiver recruitment, as they devote more and more resources to finding new staff. This impacts agencies in a lot of different ways. One of the biggest and most overlooked ways is cost. Did you know the cost to recruit a single Caregiver has gone up 63% over the past two years?
This skyrocketing expense is troublesome for agencies. In an earlier post, The Most Expensive Part of Caregiver Recruiting Isn't Advertisement - It's Time, we took an in-depth look at how costly Caregiver and CNA recruitment can be. With projections showing the demand for in home care to continue outpacing the supply of care workers, this gnarly problem won't be going away on its own anytime soon. Now more than ever it's imperative that agencies monitor their cost to hire Caregivers across all channels and put in place an active strategy to manage it. Below you can see the median Caregiver acquisition cost across four of the most popular recruitment channels in home care.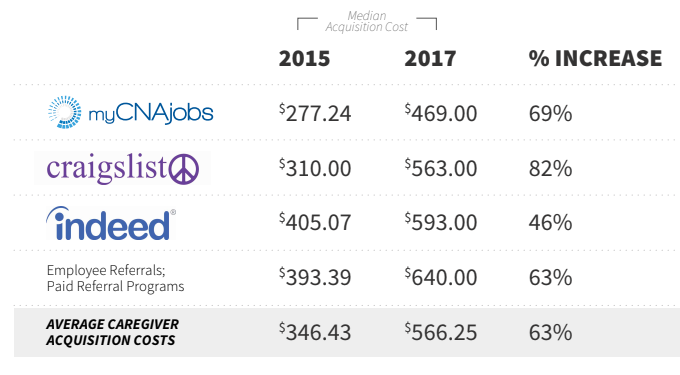 Steadily rising since 2015, the average Caregiver cost-per-hire now sits at over $550. As you can see from the numbers above, different channels are going to deliver different cost-per-hire. Agencies who closely monitor their Caregiver, HHA, and CNA recruitment and strategically place their resources are going to come out on top in the long run. If you don't currently have a system in place to track cost-per-hire, you'll want to start as soon as possible.
A great place to start is the Cost Per Hire Calculator. This free online resource allows you to benchmark where your Caregiver cost-per-hire sits today and benchmark it against the industry, while also providing suggestions for lowering it. For a full overview of the trends in the cost to recruit CNAs and Caregivers, download the 2018 Caregiver Recruitment Cost Trends guide below:
You may also like:
How On The Spot Interviews Will Boost Your Caregiver Recruitment Efforts