There's a lot to be said about the high demand of Caregivers and CNAs in home care recruitment today. It's something that can be anecdotally observed; recruiting is harder now than it was three, five, or ten years ago. It can also be seen through more objective observations. For example, the rising number of Americans needing care far outpacing new people entering the Caregiving field. One piece of data that really strikes a chord with any agency hiring Caregivers is just how often a Caregiver's phone rings. The latest research shows that for the second year in a row, Caregivers continue to receive 3+ calls a week for work on average. For anybody recruiting in home care, this statistic can be worrisome.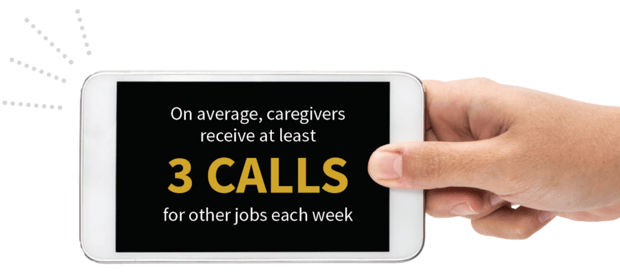 Whether or not you've heard this statistic before (we've certainly mentioned it on this blog in the past), it should give you pause. Consider this example: You've just had a Caregiver in for an interview. You say your goodbyes and they exit your office and walk back to their car. By the time they sit down in the driver's seat their phone is ringing - it's another agency calling to offer them work. In order to get ahead when recruiting CNAs and Caregivers, you have to have something that sets you apart. What does your agency offer that the three other agencies who will call this week don't? What makes your call stand out from all the others in their voicemail?
This doesn't just apply to potential Caregiver hires. This includes current Caregivers, too. The ones on your roster are being actively recruited, receiving multiple calls each week from competitors in your area. Do you have retention programs in place to incentivize them to stay? Are other employers in your area offering more attractive pay and benefits when they call your staff? These are the realities of the market today, and why agencies across the country are focused on building stronger brands with better benefits to bolster their Caregiver, HHA, and CNA recruitment efforts. 96% of Caregivers are open to a new job at any time, and with the information we have on how often they're being called each week, we know they're being offered jobs regularly.

Caregiver recruitment is more challenging than it used to be, and that trend is going to continue. In order to outpace your competitors and keep your agency healthy and thriving, it will be necessary to stand out in a sea of companies vying for the attention of Caregivers. Conversely, agencies will need to become workplaces that are difficult to leave, both through pay and benefits as well as culture and relationships.
You may also like:
Home Care Recruitment: Top Examples of Employee Referral Programs
Caregiver Pay Insight: 36% of Caregivers Report Making More Than 12 Months Ago