We talk a lot on this blog about evaluating other competitors in your market (see Recruiting Caregivers: #1 Strategy to Learn What Your Competitors are Offering, for example) and how those competitors affect home care recruitment. Fast food and retail are examples we often use of outside competitors to keep an eye on. For many agencies there's another big competitor lurking in the shadows, and they're targeting your Caregivers. The newest research shows 10% of Caregivers have worked for or interviewed at Amazon.
That's right - that Amazon. The online giant has distribution centers, warehouses, prime now delivery centers, fresh pantry centers, and more - and they're all hiring Caregivers. They regularly hold large hiring events nationwide, including one last summer where they made 50,000 hires in a single day. Their fulfilment centers employ thousands of workers, and boast 30% higher wages than traditional retail stores. With e-commerce flourishing and warehouse construction continuing to grow, companies like Amazon could soon prove to be the biggest threat to your agency's ability to hire CNAs and Caregivers.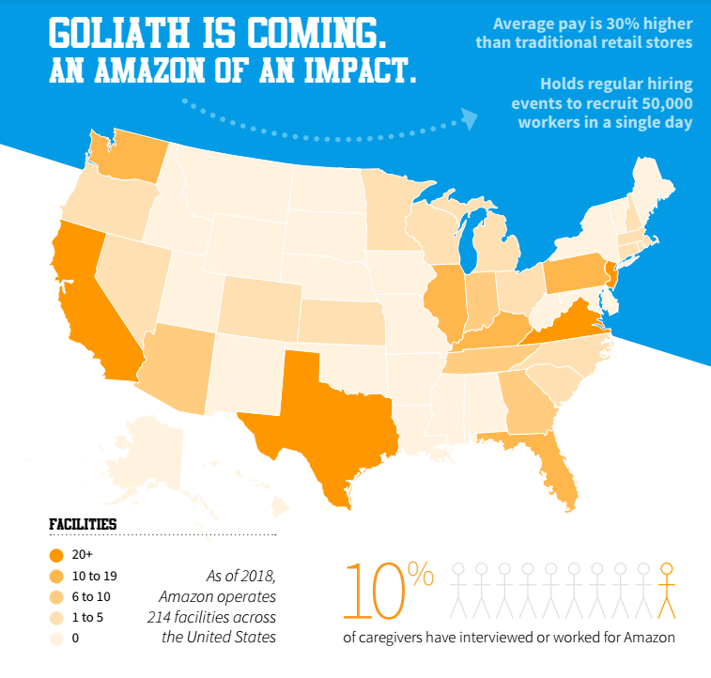 The map above shows Amazon's footprint across the country. Today, one in ten Caregivers in your market have already either worked for or interviewed with Amazon alone, and there are many other large online retailers who present the same threat. They offer full-time, part-time, and seasonal positions, allowing workers to get the hours they need. Agencies need to take heed of this rising threat, and find ways to remain competitive in order to keep recruiting for home care. When analyzing your local competition, keep an eye out for Amazon warehouses or other fulfilment centers within 30 miles of your service territories and make close note of what they're offering to lure Caregivers away.
If you're interested in more Caregiver, HHA, and CNA recruitment insights, check out our encore presentation of our 2018 Get Competitive Webinar Series. We'll uncover the latest trends in Caregiver recruitment and job search and get under the hood to better understand a Caregiver's psyche including the impact of:
Wages

Benefits

Training

The Interview Process

Your Local Market
Join us for an upcoming webinar - REGISTER HERE.
You may also like:
Caregiver Recruitment: 32% of Caregivers Interview With Another Company Every Month
[VIDEO] Front Row Seat: Your Caregiver Recruitment Questions Answered